Most of us have had a suction control valve replaced under warranty or had to buy a new one as its playing up, throwing codes, etc.
Ever wondered why it stuffs up? I have. I have had a few tritons over the years, suction control vales replaced under warrant multiple times and also bought replacment items to have them play up within 10-20,000km. Its annoying as hell.
Looking on the Internet you can buy standard replacment items or there is a 'heavy duty' modified SCV available. Reading the fine print in the advertisement it gives away the secret of what process has bee done to make this special item a 'heavy duty' special $100 more expensive part than standard.
It reads in the advertisement:
"Hi Spec Suction Control Valves will deliver more power over the standard unit by allowing the Common Rail Pump to make more available fuel for the ECU to control. Also, our Hi Spec Suction Control Valve is a more durable SCV over the standard version. It WILL LAST LONGER. Use this valve if you think the fuel available on the trip will be suspect!'
"THIS IS A GENUINE DENSO PART WITH A MODIFICATION."
What does this mean????
Well it gives it all away in the description above!
1. It is a standard genuine Denso part with a modification carried out.
2. It will last longer, use this part if you suspect your using suspect fuel.
So to analyse this you also need to look at the stripped failed item. On replacment the factory also replaces the fuel filters as part of the kit. This can only mean one thing. Standard SCV valves fail from contamination. The close tolerances in the SCV makes the small spool get jammed, scored and stick. The truck malfunction etc.
The answer is simple. The modification carried out on the standard modified so called 'heavy duty' SCV valve is clearancing.
The small spool is clearanced so that it can accomodate more not so good fuel, not get jammed and likely never to stuff up again. The trade off as also stated in the advertisement is slightly lumpy engine idol. Big whoop.
I've taken my stuffed 130000km SCV and carried out this special mod for free. No racing sticker on my stock SCV valve but same performance as the new one for $$$
1. Remove the Internal Circlip in the end of the valve.
2. Remove the small spool noting the direction it came out and also the spring. You can clearly see how the contamination in the fuel scores the spool and causes it to malfunction and jam
3. I put a bit of tape on a drill bit and mount the spool so you can spin it in a drill or similar.
4. Using some 2000grit wet or dry polish the score marks from the spool. I lubricated with some wd40 as I polished. So in this process we remove the score marks and also clearance the spool so it can't jam as easy. The amount of material removed is minimal with super fine 2000grit. Just a minute or two of polishing is required.
5. Clean all components very well with brake cleaner and re assemble.
6. Bobs your unkle. Fit racing heavy duty sticker.
Say all you want. I've got a new one on the shelf in my garage but it's not required. The clearanced polished item which is over 100000km old is just as good. Lumpy idol is barely noticeable if at all and is yet to miss a beat in over 20000km since I've carried out this mod.
Valve removed
Circlip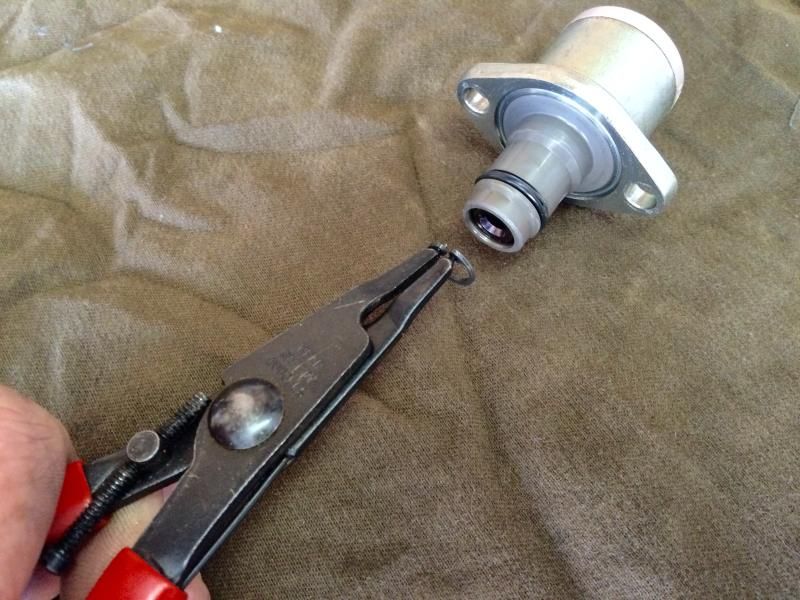 Score marks clearly visible on the SCV spool
Mount the spool on a drill bit