Since I have had the MN for 2 months now I thought I had better post up what has been done to it so far......
Picked up from dealer with side steps, tinted windows, floor mats and headlight protectors
Then after a month it went to ARB for a winch bar, rear bar, snorkel, smooth canopy, tub liner and trade roof rack and while it was there I had the XD9000 off the Patrol checked, greased and installed with the bar (with the associated in/out dash switch and isolation switch).
I went out and bought a set of BF Goodrich KM2's last week which will go under the triton when the Ultimate lift arrives (being ordered this week).
Still sitting in the shed and waiting to go on at some stage soon are an ARB awning, compressor and a set of lightforce 240 blitz's.
Photo's so far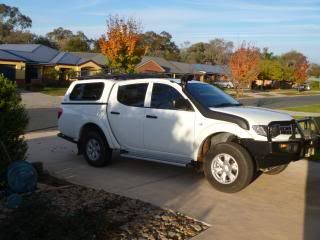 Can't wait to get everything sorted and get in some snow driving this winter

Adam