Thought it could be a good time to start a build thread... So meet BZI, out of the box it's a club cab chassis with the rear diff lock and ASTC, I have just clocked up 6000k's and have only minor mod's so far, first was the egr blank plate and provent filter then the stainless bash plates, centre console arm rest, got my new slide on camper a few weeks ago and my work tool box is finally finished... I use mine as a sparky vehicle during the week and then remove the tool box and put the slide on camper for weekend camping trips, so far it has worked great!
It's first day at home.
My slide on alloy toolbox being fabed by a mate.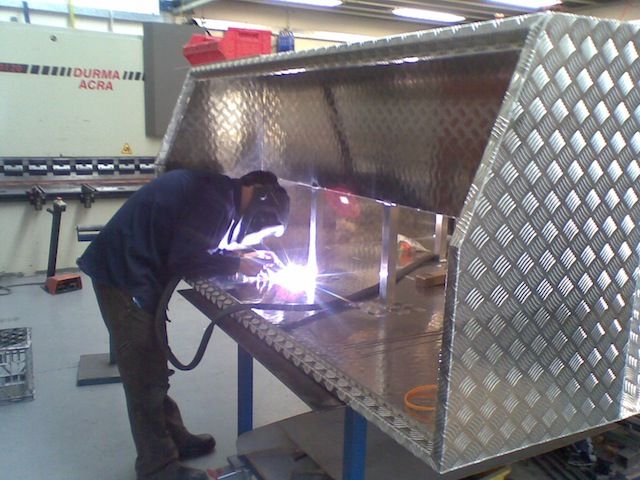 Only done one 4wd camping trip with the missus so far but loving it.

Our first trip was to Newnes vie Blackfellows hand track and down Beecroft track that was when i realised the standard cheese cutters tyres were not up to the job, just lucky i had the new bash plates on.

This is ''Turtle'' our slide on camper the day we picked it up. It has full size double bed, kitchen, dual battery, 75ltr water tank and pump.
This was it's first 4wd camping trip. Completly stock apart from 3mm bash plates and egr blank.
1.jpg[/img]
Was great to get some mud on the fresh new paint.

The main reason I bought this 4wd is for a 1year trip around Aus in a year and half's time from now.

Still have lot's of mod's to do but will have to wait a while for the bank account to recover.
The wish list goes - Tyres, Ultimate suspension, auxiliary fuel tank, air compressor and tank, Chipit chip, uhf radio, double din GPS /stereo, rock sliders, snorkel, bull bar and winch ect.. Thanks to everyone on this great forum for all the inside info on Tritons, made my choice easy! Thanks people.